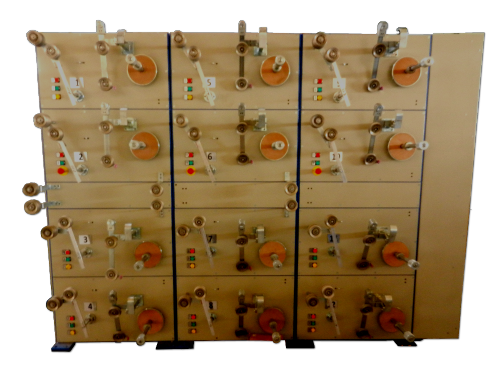 Multi-Fiber Payoff
MFPO Series
On the motor pay-off stand, for each reel there is a special pneumatic piston dancer available.
Machine has a very strong welded sturdy frame which does not require any special construction for the ground surface to be assembled.
Reels are loaded manually by operator to the main frame from bores of the reels. Reels are also fixed by fast fixing nut by the operator. Each reel has a motor and unloading tension is controlled by a special pneumatic piston dancer. By this way sensitive unloading of the reels are done.
Each fiber unloaded from reel is guided on dancer unit that is assembled for that fiber.
Unit has 12 fiber reels on it. For 24 fiber production, two units are used in synchronization.
For Information and Requests
For detailed information, your questions and requests please contact us. Our sales team will reply you in the shortest time.