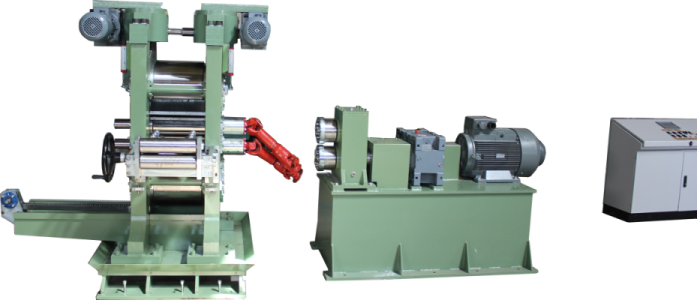 Sheet Cold Rolling Machine
!!This product is specially designed for our customer and no active sales of this machine is available!!
With this machine standard thickness purchased steel sheet rolls are rolled to smaller thickness and steel is lengthened. By this way, standard thickness of the steel roll is thinned to the thickness that is necessary for the pipe to be produced. A longer pipe is produced from the standard steel roll. Thus, an economic advantage is obtained by obtaining cost savings during pipe production.
Sheets up to 4 mm thickness and 300 mm width can be rolled.
The maximum rolling amount is 15%.
The number of work rolls are 2 pieces.
There are 2 separate engines for printing.
Roller replacement is done with the help of hydraulic cylinders.
There are electrical, pneumatic and hydraulic systems on the machine.
The machine is controlled electronically via PLC with touch screen.