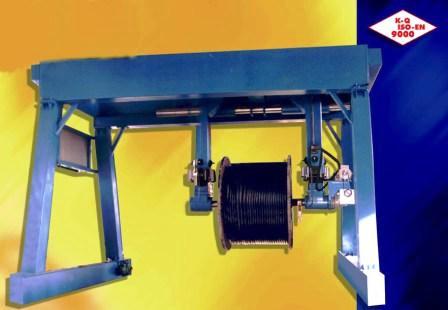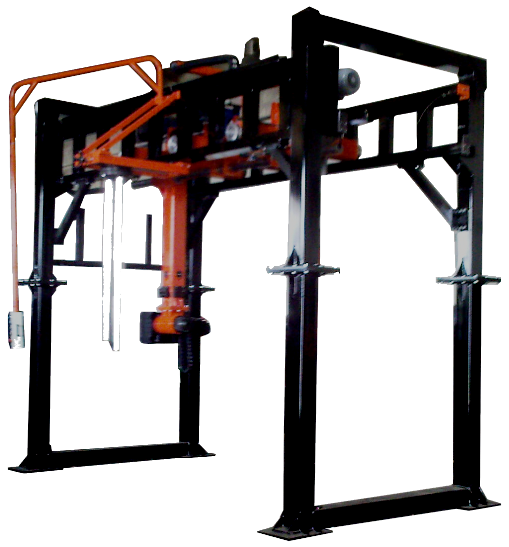 Gantry (Bridge) Type Take-Up
Gantry type take-up units have very strong structures to unwind heavy and large reels. This type of take-up units are suitable for large reel sizes range from 1000 mm flange diameter to 5000 mm flange diameter. Full reel weights can go up to 30000 Kg (30 tons).
Reels are placed between pintles via pintle adaptors. Reel leveling and lowering is done via gearbox motors. Pintles arms are suitable to move seperately. By this waw reel loading and unloading can be done easier with less effort and time.
Reel is moved left and right on the rails which are assembled on the bridge structure of the machine. In case requested by customer, except moving right and left, a special traversing unit can be placed in front of the machine.
With the diameter information received from the line, traversing speed is also adjusted automatically (for complete Savsan lines). Machine also enables operator to adjust manually.
Winding is done with motor by torque control. If used with dancer or accumulator unit also can wind in speed mode up to 20 mm diameters.
Options:
Dancer or Accumulator to work with Speed Mode
Long Arm Control Panel
Touchscreen Control Panel
Cage with magnetic lock and Laser Sensor for Safety
CE Certificate
For Information and Requests
For detailed information, your questions and requests please contact us. Our sales team will reply you in the shortest time.