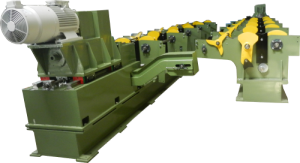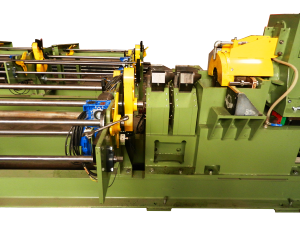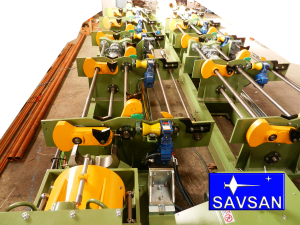 Automatic Pipe Threading and Deburring Machine
We are producing machinery for steel pipes. Our machine is suitable for steel pipe producers (not for personal usage). We are able to make modifications on machine:
Pipe Type : Carbon Steel
Production Speed: 8 - 12 pcs/min @½" pipe
Pipe Length : 3 - 8 meter
Pipe diameters: 21,3mm - 26,9mm - 33,7mm - 42,3mm - 48,3mm - 60,3mm - 73mm - 76,1mm - 88,9mm - 114,3mm
Thread Standards: ANSI B1.20.1, ISO 261, ASME B1.13M, BS 2779
Thread Pitch : 14 TPI, 11 TPI, 11.5 TPI, 8 TPI
Control System: PLC
Cutting Motor : Inverter controlled 2 motors
Progress motor: 2 pcs servo
Clamp : Hydraulically driven and concentric working type
Clamp Jaws : One for each group
Elevation Mechanism: Automatic by AC motor-reducer
Cooling : 2 group liquid cooled
Linear Slides and bearings: 1st Class
Hydraulic Unit electric projects and automation
Control : with Digital Screen, thread is set via screen
Lubrication : 2 groups of automatic lubrication
Conveyor Rollers: Hardened Special Steel
Scrap Press : 2 groups
Scrap Conveyor: 2 pcs
Control Panel: 2 pcs
Hydraulic and Grease oils are supplied by buyer.
For Information and Requests
For detailed information, your questions and requests please contact us. Our sales team will reply you in the shortest time.